Stylish painting and decorating tips with Sage Green
This week we have been focusing on the lovely tones of green, specifically sage green which you would have seen used quite a bit, especially as it represents Dulux's colour of 2020 Tranquil Dawn. The Good Painter love incorporating it with painting and decorating and love to talk about it. So, it is our pleasure to present stylish painting and decorating tips when using Sage Green in your space! Learn how to soften a room and make beautiful statements which enhances your London home and space.
Use this tone as you would if creating a neutral colour scheme or just a stand-alone neutral colour. By definition, sage green is a mix of grey and green, representing its origin of the name, sage leaves. Our painters and decorators see that it is a shade which may comfortably replace grey due to its healthy portrayal and beneficial features. It is an ideal tone which can be used throughout the space in larger quantities or as unique accents when decorating your London home. Unsure how to incorporate it into a colour scheme? Find constructed colours schemes for Tranquil Dawn and inspire from the variety of tones that complement together.
Sage Green portray a tranquil, calm and motivating effect, due to its soft, subtle yet sophisticated hue which encourages health and well-being. To truly embrace this, incorporate natural elements within materials, accessories and tones inspired by nature. As Houzz demonstrates through some beautiful selection of interior, sage green will lighten up and flourish when surrounded in a natural-inspired environment. Embrace this tone by partnering it up with wooden furniture, earthy tones and decorating with house plants.
3. Explore through texture
Other than painting, this beautiful tone can be incredibly stylish when used as a textured element. The rewarding aspects of this tone allow you to showcase your creativity due to its versatility. Our painting and decorating company recommend using this colour for tiling in the bathroom. Its produces the perfect mood due to the colours psychology and meaning and will shine on some bathroom tiling, playing with texture and how the light hits each individual tile to create a dynamic space. Domus Group has now released a new collection with some beautiful shades that you can explore, including sage green. Want to be distinct and create a luxurious look? Our painters and decorators recommend finding green marble and completing this with warm accents through brassware and bronze accessories. Think outside the box and use this tone through texture within furniture, wallcoverings and unique accessories.
4. Painting, but not just walls!
When we think of colour and painting, usually our minds take us to walls. Our painting and decorating company have the experience to work on anything, that is why we encourage to think beyond walls and take to furniture, woodworks and other statement elements. Want to use sage green in the kitchen? We have seen a rise in green kitchen cabinets, and we are encouraging this idea more, especially with this tone. The Clifton Hill project uses this tone throughout their home, particularly in the kitchen, and we have proof of how solid and beautiful this choice can be! You may also use this tone to highlight any architectural features within your interior spaces, such as arches, wood panelling and curved outlinings to accentuate the softness of your London space.
The Good Painter is passionate about colours and finding stylish solutions in painting and decorating with specific tones. Our Instagram page is successful due to the diversity and fluidity of the feed, so make sure you follow us to get all the latest information and tips. What colour will you like to see next? Let us know, and we will deliver!
If you are looking to use these ideas and transform your home with experienced and professional help, you can contact our painting and decorating team here. Let us deliver a beautiful, transformed space which is long-lasting and of high-quality.
Summary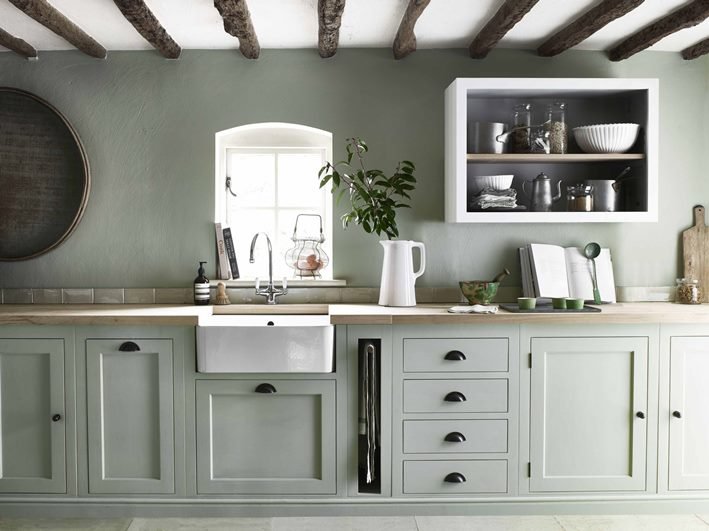 Article Name
Stylish painting and decorating tips with Sage Green
Description
The Good Painter continues this series, focusing on the beautiful tone of green! Named the favourite colour of the year from Dulux, we offer our stylish painting and decorating tips for this wonderful shade.
Author
Publisher Name
Publisher Logo