Success Story: Painting and Decorating a Large International Restaurant
Background:
Paramount Fine Foods is a well-recognised, fast-growing Middle Eastern hospitality chain in North America. Before opening their new restaurant in Kensington, London, they asked The Good Painter to help them create an environment that referenced Lebanese culture whilst expanding their business to cater to the London market.
Client Brief:
Paramount wanted to create a space that emphasised their branding and concept to the London market. They wanted to create an environment that exhibits the heritage and food culture of Lebanon while fitting in with London's modern and sophisticated style. It was also important that the project was completed quickly and efficiently so that the restaurant could open on time.
Firstly, the ceiling paint and non-feature wall were painted the same colour for an atmospheric combination. This simple colour complemented the floor tiling by Ceramica sant'Agostino, which embraced cultural influence and helped to create an authentic atmosphere.
Our painters and decorators used an Artisan Tadelakt Assassi Grey finish for the feature wall, creating an impact on the chain and having a statement. Tadelakt is a waterproof plaster surface used in Moroccan structures, the result? A softer feel and genuine atmosphere which distinguishes chains within the area and beating competition.
For the basement we used Cole and Son wallpaper  to match the green finishing of the furniture. This specific wallpaper was picked to fit the colour scheme as well as having an unusual but stimulating pattern which would fit the overall feel of the restaurant. Paramount followed a continuous colour scheme for a co-ordinated and sophisticated image.
Creating focal points in the restaurant is an excellent way to grab attention. Working with a geometric theme, our team, in agreement with the client decided to use wall panelling, in harmony with the wallpaper for a unique look, without being too overpowering. This created a perfect balance of the eccentric Lebanese style with the modern London nature.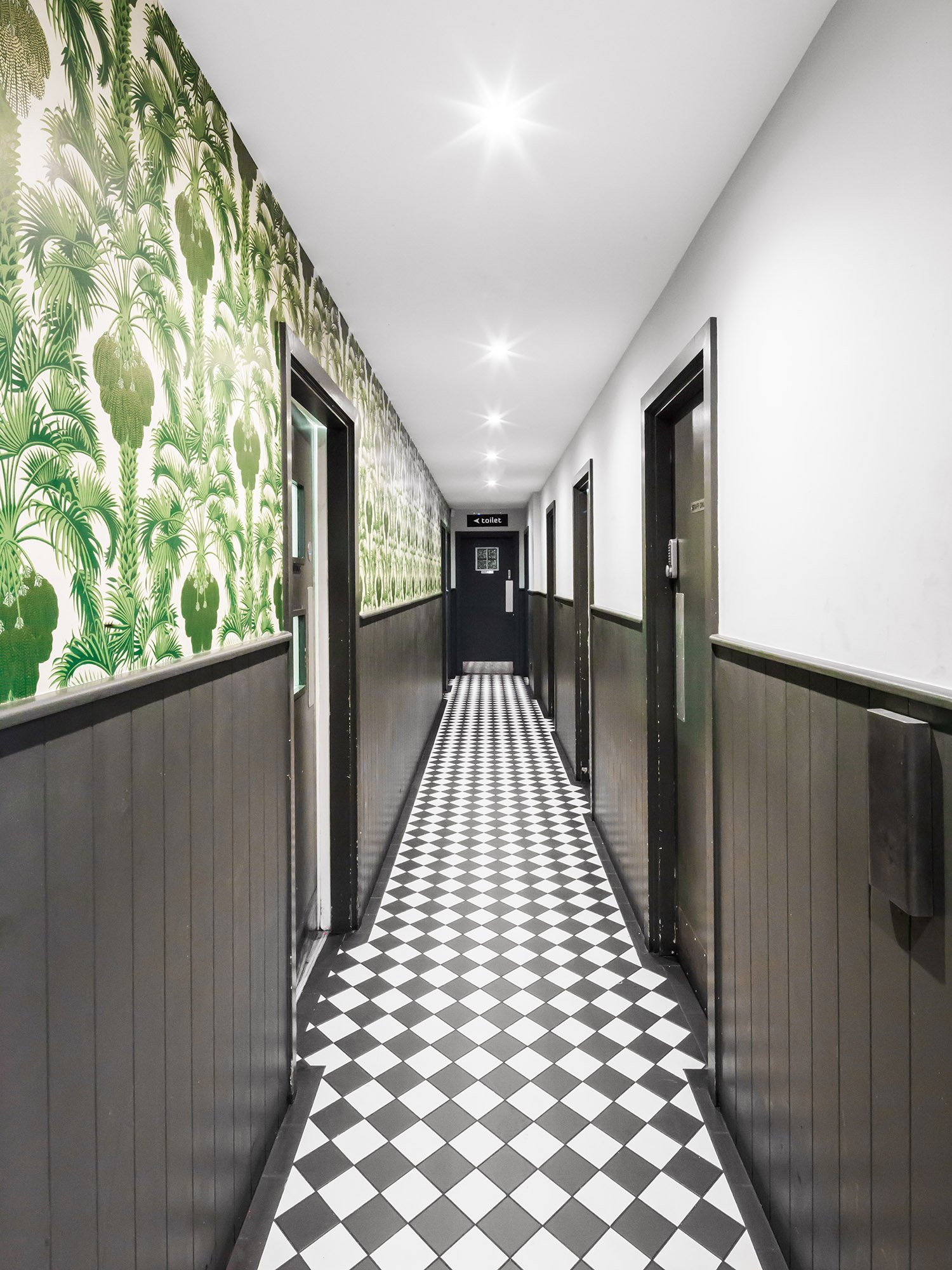 Paramount had an interior that they could be proud of which would enable customers to connect with them through the authenticity and the story of their brand.
QUESTIONS FOR THE CLIENT:
What was the main challenge during the painting and decorating project?
Essentially, our goal was to keep the heritage and food culture of our chain but make it appealing and engaging to the London market. We wanted to ensure customers can connect with us through authentic branding while keeping the Lebanese history and culture.
What did you enjoy the most during the process?
We loved The Good Painter's input and ideas for our vision. We were open to suggestions and they delivered a job that exceeded our expectations! The team created an authentic environment that fits perfectly with our theme and the furniture.
What would be your advice to anyone planning a painting and decorating project?
Don't be afraid to explore and be open to new ideas! The Good Painter was available to deliver the best possible solutions to create a restaurant which would attract customers and stay true to its history.
Finding painters who are passionate about their job and willing to progress with you to create the perfect final product is a wonderful experience. We are extremely happy with The Good Painter's service and how timely everything was!
Our Painting and Decorating Service
The Good Painter delivers excellent results every time, creating beautiful interiors that will wow your customers and flourish your business.
We serve both commercial and residential services, from hospitality and offices to private properties.
For more information on our painting and decorating services, browse our website to find out how we could help you to create a stunning interior in no time.
Summary
Article Name
Painting and Decorating an International Restaurant in London
Description
The Good Painter helps reflect sophistication while retain the culture of a large international restaurant specialising in Lebanese cuisine, preparing for its London debut.
Author
Publisher Name
Publisher Logo