Best Colour Schemes for painting and decorating your Kitchen
To most people, the kitchen is the favourite part of the house. It's the room where families get together, cook and spend time together. The best meals and the most natural conversations all happen in the kitchen. That is why you want to put the love of painting and decorating your kitchen to feel comfortable in it. As so much time is spent in the kitchen, it is important to make the colour choice a right one! Here are some possible colour schemes our painters and decorators have compiled for you…
Shades of Green, Yellow and/or Pink
Green is colour that will bring warmth and nature into your own home. Of course, there are many different shades to choose from. You can give your kitchen a fresh modern look by painting in colours like lime, mint, blue-greens or even peacock. It is said to be a rule to use colours for decorating that are opposite each other on the colour wheel, so the opposite to green would be pink. Depending on the shade, pink and green go very well together. You can try creating a contrast by going darker on the green, the lighter you go on the pink or other way around. You can also add pops of yellow through decoration like lamps or use light yellow instead of pink. When choosing a colour scheme, you should usually stick to two to three colours. So if your decorations or furniture are made of wood or white, you probably only want to choose two other colours only.
Blue and White
The combination of these two classic colours leads to a beautiful maritime kitchen. Try using darker blues to build on the contrast with the whites. This colour mix manages to maintain a neutrality while at the same time not being too overwhelming with colour. You can either integrate these colours through painting the walls or through decorating like for example, tiles. Use warm toned blues to balance out the whites, that are usually cool toned. This will some stability and style to the room. If you are painting your walls blue and white, wooden decorations will warm up the room and make it cosy.
You can also add pops of colour, but make sure that they complement the blue you have chosen.
If you are looking for a beautiful blue, here are two examples our painters and decorators picked out:
Blue, Yellow and White
This is a combination that combines the classic white and blue and adds some colour to it using yellow. The three colours together balance each other out and a special touch to the room. You can try and play on contrast, so the lighter the yellow, the darker the blue. The lighter the blue, the bolder the yellow you can use, like for example, painting in lemon yellow. Our painters and decorators also suggest the idea of keeping the walls in blue and white and then adding yellow when decorating. This you can do by adding lamps or towels that are yellow. For a more homely feeling, try using yellows that have a warmer undertone.
If you are interested in why and how else to use yellow, here…
Red and white
You can try and implement red by painting the cabinets into a white kitchen. Red is a very bold and energetic colour, that increases appetite. The kitchen is probably one of the only rooms where you would want that. However, our painters and decorators recommend integrating red through decorating if you don't want the colour to be overwhelming. You could get a muted red kitchen table or red bar chairs if you have that kind of a kitchen. If the combination of these two colours only is too bold for you, add some black elements to the kitchen like brass ware.
If you are considering of using the classic black and white, and adding another colour instead of red, find out more here on how to add pops of colour when painting and decorating….
Final notes on the best colours for painting and decorating your kitchen…
Kitchens can be a very cosy place to gather the family and spend moments together. If you want to make your kitchen homely but don't know where to start or what colour scheme to use, our painters and decorators would gladly help you. We offer colour consultation services and help implement what you chose by painting and decorating.
We work seven days a week, so we can provide you with service as soon as the next day! Contact us today!
Summary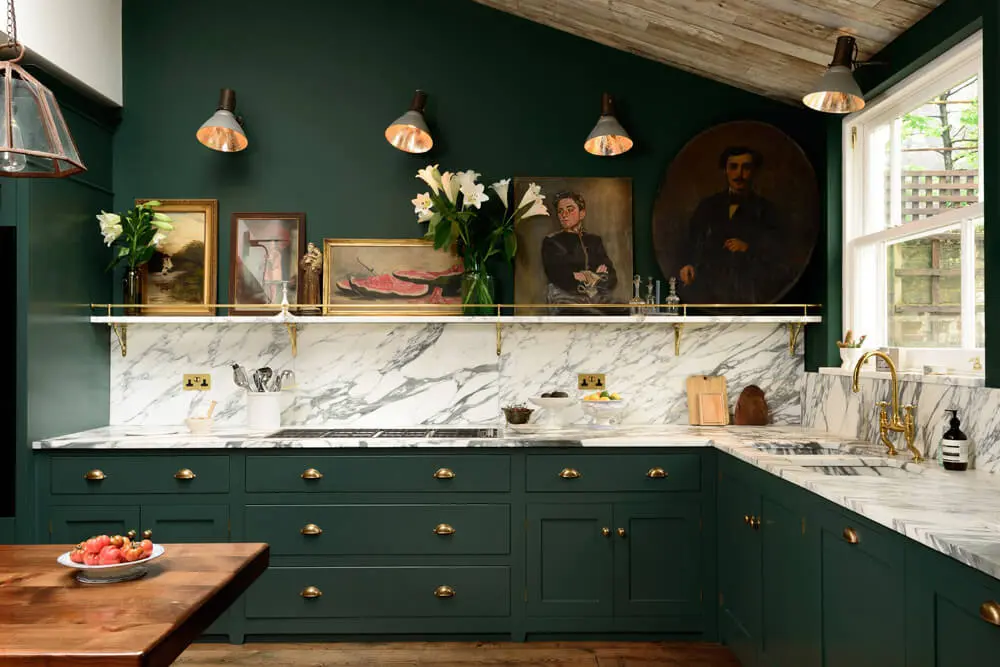 Article Name
BEST COLOUR SCHEMES FOR PAINTING AND DECORATING YOUR KITCHEN
Description
To most people, the kitchen is the favourite part of the house. It's the room where families get together, cook and spend time together. That is why you want to put the love of painting and decorating your kitchen to feel comfortable in it. Our painters and decorators made a list of colour schemes for your kitchen…
Author
Publisher Name
Publisher Logo