5 reasons to paint your ceiling in a statement colour
Painting and decorating statement ceilings in different colours – from muted through to bold tones – is becoming a serious trend. If you're feeling adventurous and would love to try out the new ceiling fashion but are not 100% convinced yet, here are 5 reasons you should paint your ceiling now!
Choose dark ceilings when painting and decorating
Dark ceilings can visually change the size of a room, making its height look infinite. They can also make a ceiling look lower too and create a more intimate environment, which is his is great  if you live in a space with very high ceilings and you feel a little bit overwhelmed.
Apart from looking extraordinary by itself, a painted ceiling also enhances any decorations and is definitely something to consider when painting and decorating. The use of natural light gives the accessories a wonderful glow and makes them more eye-catching. To add even more emotion, try reflective décor on the ceiling like a chandelier or a lamp to give the room a luxurious feeling of cosiness.
Same colour throughout interior
Painting walls and ceilings the same colour will give a more sophisticated look to your room. Paint the trims in white to add a little bit of contrast.
Using the same colour can help make the most of a small room by lowering the ceilings to make the room look more extensive. You can also use a slightly lighter colour for the ceilings mixed with the colour of the walls to define high ceilings.
Using the same colour when painting and decorating creates a feeling of coherence and unity, but at the same time provides an opportunity to create a unique contrast through decorations.
Show off the details
If you're lucky enough to have a detailed ceiling with exposed beams or grids, show it off! Use a different colour when painting and decorating to draw attention upwards and highlight all of its beautiful details. This will make the room look more personal and exciting.
Using colour to define  patterns or details on the ceiling can create a whole new perception of the room. Darker hues can make the room appear larger as it adds dimension to the ceilings and adds focus to patterns and accessories. Adding reflective lamps as decoration can bring out of most of the also create a wonderful warm glow.
Budget makeover with ceiling painting and decorating
A painted ceiling is a cheap solution for a dull white bathroom and really adds something special.
Try a light blue green or a soft turquoise hue to create a look of deep-sea serenity and calmness. We love this Blue Ground shade from Farrow & Ball, which is clean and friendly without being too cold. If there is little natural light in your bathroom, you can use lamps to make the room brighter.
Before painting and decorating the walls, it's important to prepare them as otherwise adding colour will highlight the imperfections. As an alternative to the classic matte you can use a waterproof glossy finish, which is easier to maintain in a room that is constantly exposed to steam and water.
Full-on gold!
When painting and decorating, why not give a boring room a little bit of glamour and go for a metallic painted ceiling? Try this Antique Gold Effect paint from Craig and Rose to  give the place that much needed 'wow' factor as well as well as reflecting natural light to create a nice airy feel.
You can use elements like chandeliers and bright lamps to add a special reflective glow to the decorations in the room. Darker and lighter coloured decorations can be used to create contrasts and really make the room an experience.
Light-coloured walls can be used to match and make the gold shine even more, filling the room with a warm, cosy feeling.
Maybe painted ceilings aren't your thing? Check out 2019's spring colour schemes for some more exciting ideas to transform your home interior.
Still not sure? Ask the Good Painter! We are painting and decorating in London
and have completed many successful projects. We're more than happy to help you repaint your London property, so take  a look at our latest projects and see what our happy clients have to say!
Summary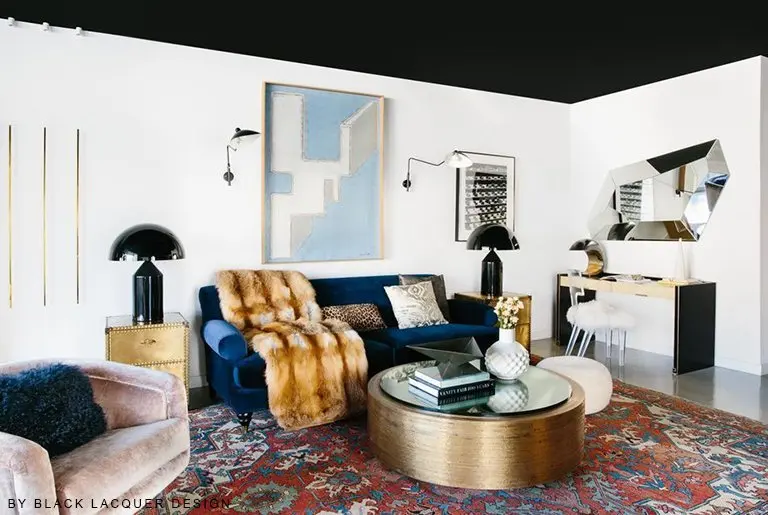 Article Name
CEILING PAINTING AND DECORATING
Description
When painting and decorating, the ceiling often remains forgotten. Read on to find out why you might want to consider painting the ceiling.
Author
Publisher Name
Publisher Logo